I let the kids help with part of this one, so it's not exactly....right. But being a family project, I can't let my "issues" get in the way. :)
This "tutorial" is pretty basic since I forgot to take pics of a few steps.


I started with a couple of terra cotta pots. One was new and one I rescued from the plant hospital (aka, the back porch). I sprayed them with water to get the dust and dirt off, then left them for about 30 minutes to dry.


Spray paint the pots white. I recommend paint, not primer. But that's what happens when you are in a hurry and apparently only look at the color of the cap. Oops.


Allow the white paint to dry thoroughly (give it at least 20 minutes...more if it's humid outside).


For the striped pot, I used painters tape and placed it on the pot in the general design that I wanted. For the polka dot pot, I used some left over garage sale stickers that were in my desk (this is where my kiddos got involved and any anal tendencies toward symmetry went out the window). You can get several hundred for a buck at the dollar store. After you apply your stickers or tape, rub over them with your finger to make sure the edges are stuck down really well or when you paint over them, it will go underneath and look messy. I had trouble with mine sticking...I'm not sure if it's because I used primer instead of paint or if it's because it was humid.as.hell outside.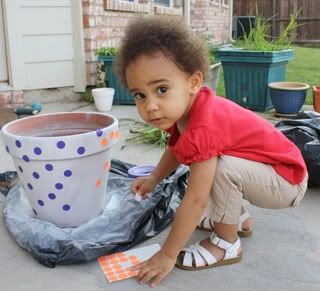 Now spray over your pot again with your color of choice, black in this case. No pictures of a black pot because, well, because I didn't take any. :) Allow the paint to dry and spray it again, getting any spots you may have missed the first time around.


After the black paint has had a chance to dry (another fudge up here because I didn't let mine dry thoroughly and because I didn't wear gloves, I looked like I had been fingerprinted), peel off your tape and stickers. I added a couple of coats of clear coat to help protect my awesome paint job from the elements.


Lots of sticker shape and color combos would work here. My sister is a ladybug fan, so she may get one that is red with black dots. I'm thinking of doing a triple threat this weekend...yellow, pink and teal. I'll let you know how it turns out. :)